Launching the OpenMeter Cloud Beta
Announcing OpenMeter Cloud Beta: Real-time and Accurate Metering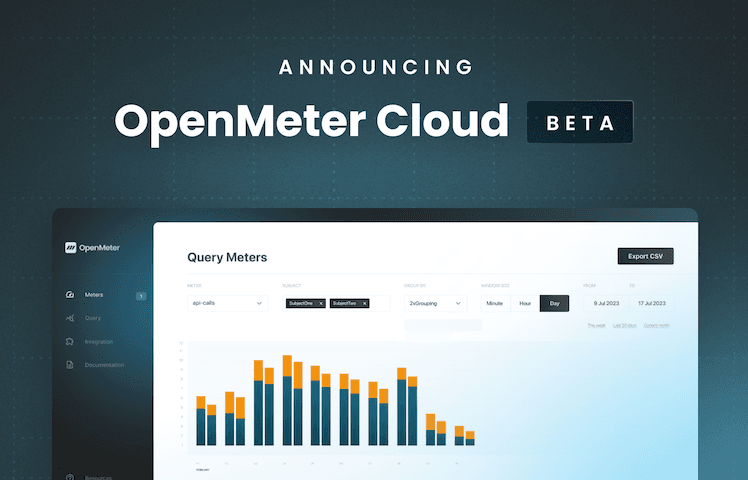 We're thrilled to announce the beta launch of OpenMeter Cloud!
Join our early access program to get the fully managed, highly available OpenMeter Cloud, including:
Accurate and Real-time: to power billing and analytics use-cases
Scalable and Robust Metering: Effortlessly scale your metering needs
User Interface: Easily manage, query, and gain insights from your meters
Secure by Default: Use Google or GitHub to login and manage your API keys
Join Our Early Access Program
If you're interested in supercharging your metering capabilities, we invite you to participate in our early access OpenMeter Cloud program. You can join our waitlist bellow:
What's New in OpenMeter Cloud
OpenMeter Cloud enables engineers to start metering large volumes of usage events within minutes, offering accurate and real-time data for billing and analytics. Our new graphical interface makes it easy for non-technical teams, like RevOps and Finance, to gain a clear understanding of usage patterns.
Empowering Engineers with Robust Metering
The OpenMeter team is committed to simplify usage metering for engineers. We aim to be the backbone for the data-intensive billing and analytics requirements of rapidly growing companies. Our platform is specially designed to support innovative products in AI, API, and DevOps space and covering their metering and data needs.
Our Journey
In June 2023, we took the first major step in fulfilling our mission by open-sourcing OpenMeter on GitHub. This initial offering served as a blueprint for accurate, real-time usage metering. Today, three months later, we're elevating the developer experience by launching OpenMeter Cloud and helping engineers to adopt scalable and robust metering just in minutes.
What's Next?
We're just getting started. In the coming months, we plan to roll out new features for both OpenMeter OSS and Cloud versions. Our enhancements will make adopting usage-based pricing models and running data-driven companies even simpler.
Thank you for your interest and support. We're excited to be on this journey with you!
Warm regards,
The OpenMeter Team